At Hunter & Barrel, we believe in the shared ritual of the feast – and nowhere is that more apparent than our innovative restaurant menu.
Quality steak, meats and produce are at the heart of everything on the Hunter & Barrel dinner menu. We let the ingredients speak for themselves, with fresh, meat, poultry and seafood offerings roasted over our signature coal grill and spit rotisserie.
Smokey marinated prawns with harrisa butter, dukkah and grilled flat bread

Crispy chicken wings, sticky honey glaze, dukkah & spring onions

Gouda, Gruyere, Edam cheese with grilled flatbread

Marinated calamari with BBQ spice & Szechuan pepper, sticky chilli dip

Salt baked beetroot carpaccio with pickled kohlrabi, rocket, hazelnut & smoked goats cheese mousse

Seasonal mushrooms served on miche toast, mascarpone cheese & saltbush pesto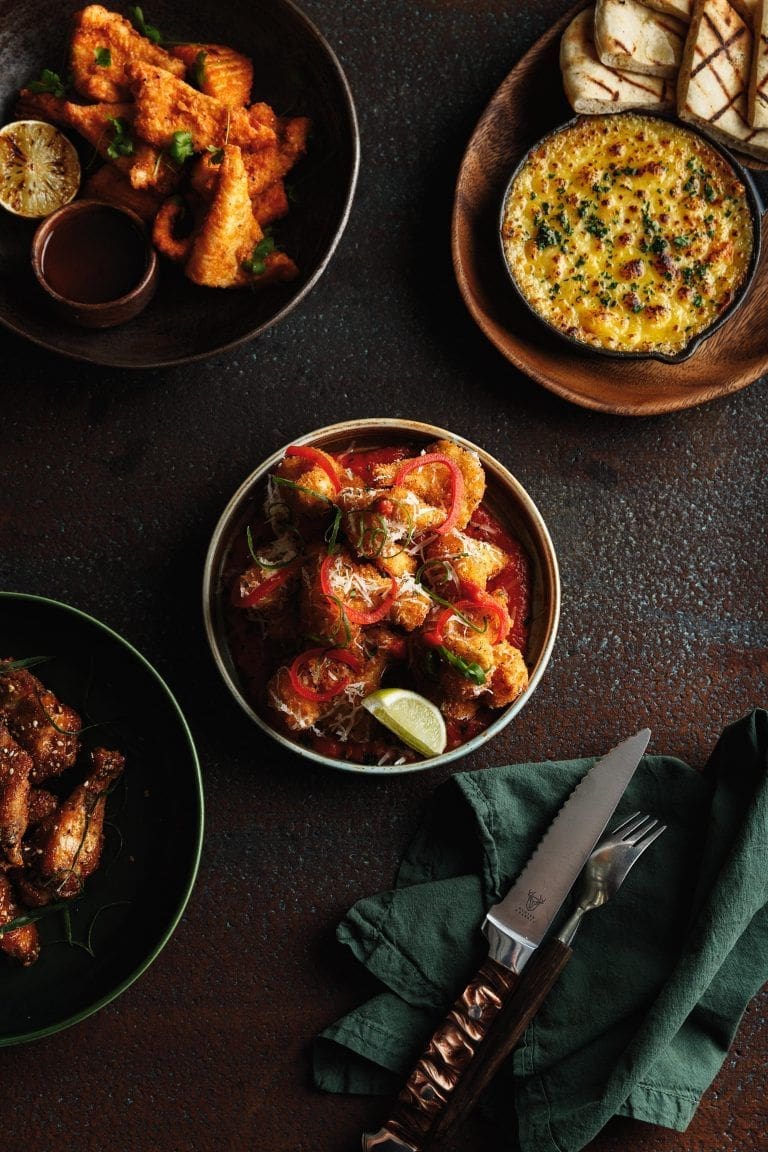 Dining with friends or family? Enjoy good company and experience the joy of communal dining with a Hunter & Barrel feast board. Designed to share between two, our feast board features mouth-watering favourites.
Feast for TWO/ $110
Rotisserie Portuguese chicken skewer, 250g Wagyu rump, 1/2 rack of pork ribs, traditional boerewors & side sauce

Sides not included
Each feast serves a minimum of 2 people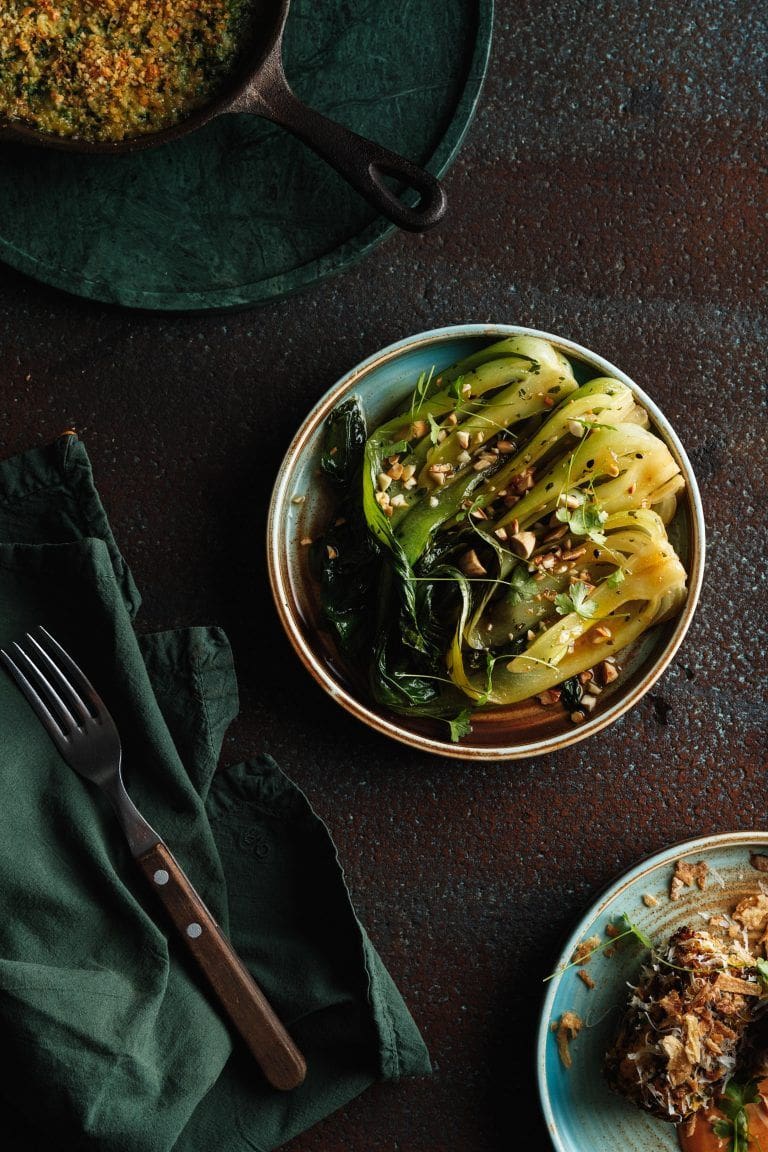 charred corn cob pieces, smoky aioli, aged parmesan & crispy shallots

Cos, Spanish onion, cucumber, kalamata olives, cherry tomoato, crumbled feta, raddish with aged white balsamic dressing

Mixed beans, lemon dressing, furikake seasoning

Smokey maple roasted carrots, miso butter, toasted almonds

Creamy mash potato ovenbaked with Gruyère cheese infused panko crumb
Cooked over open charcoal and served with crispy chips or green salad.
Rotisserie Chicken Thigh

34

Portuguese marinated chicken thigh

HONEY GLAZED PORK BELLY

36

Slow braised pork belly, sticky chilli glaze

Dukkah marinated prawns, saltbush pesto

Rosemary, garlic, oregano, lemon marinated

Garlic & Rosemary Wagyu

39

Wagyu pieces marinated in garlic and rosemary, onion petals and brushed with signature Hunter's basting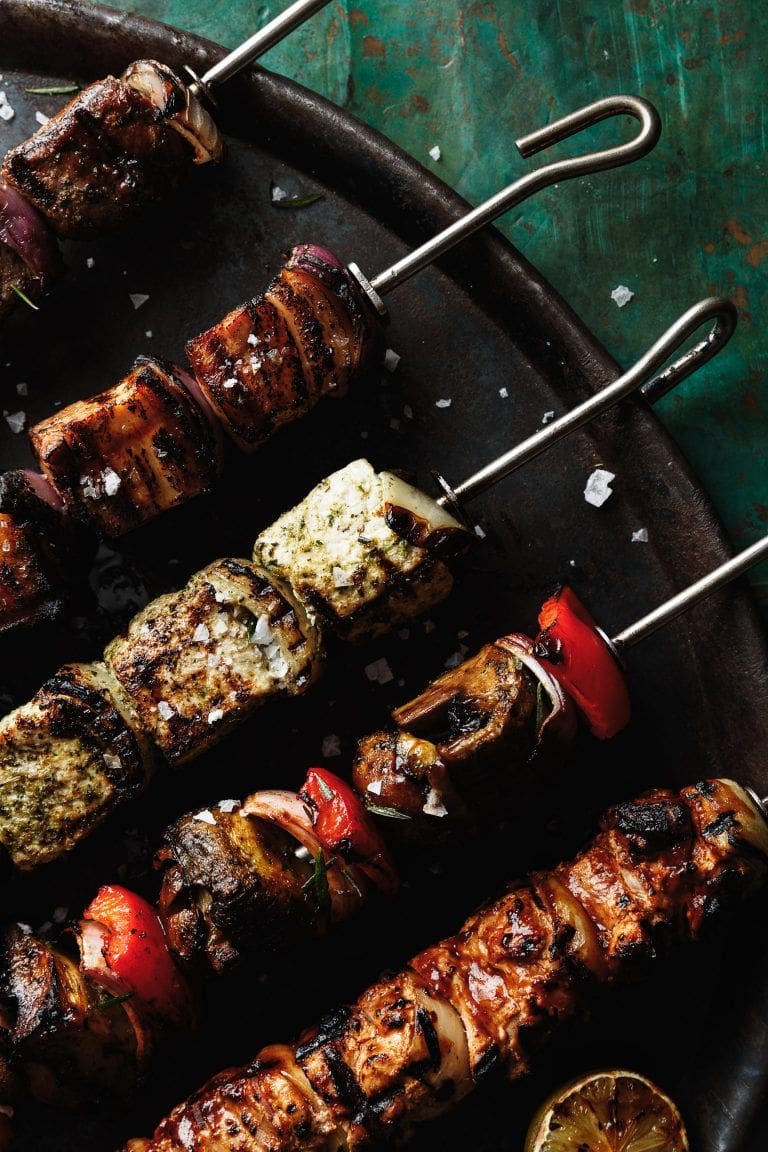 220g Angus beef burger, on a brioche bun, with oak lettuce, bacon bush tomato jam, pepperberry aioli and American cheese

Char-grilled Asado rib with Gruyère panko crumb, mustard infused mash potato & 5 spice Jus

Slow braised Wagyu stew in a rich chicken broth, creamy potato and roasted bone marrow

Oven roasted pumpkin, herb salad, toasted sunflower seeds with quinoa and mixed grains

Flamed Chicken & Chips

26

portuguese marinated half chicken, finished over flames with our signature Hunter's basting served with toasted pita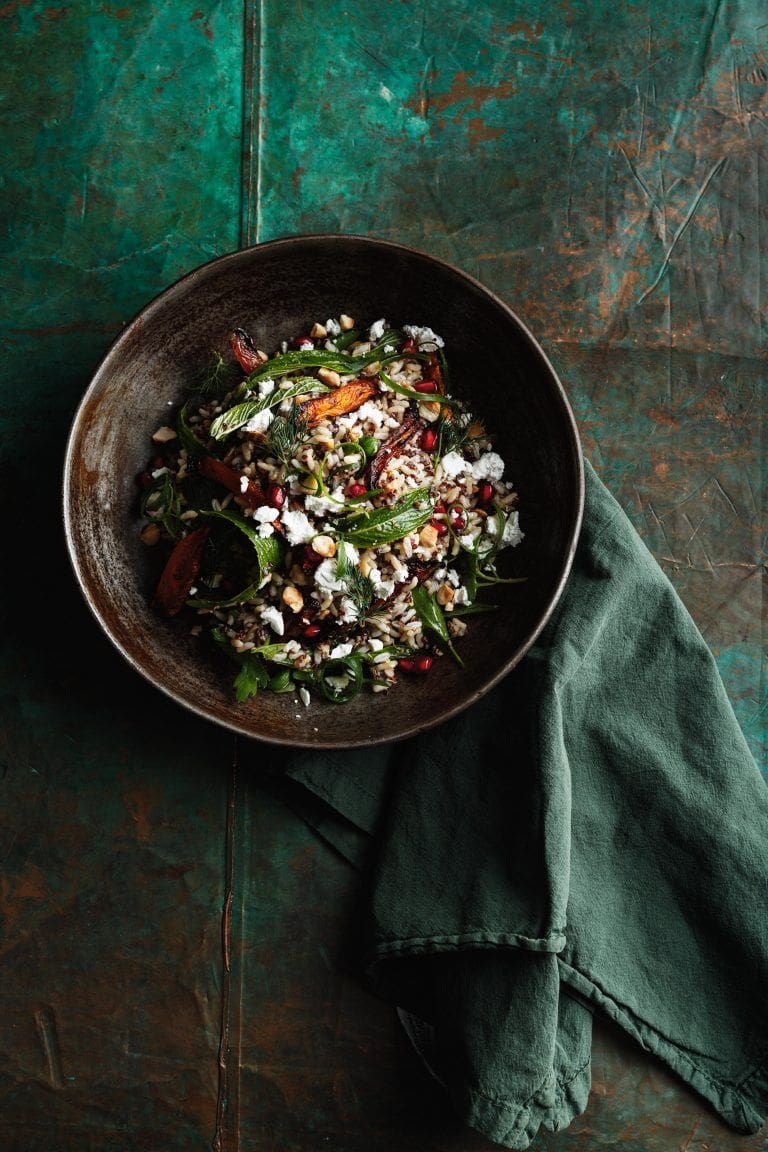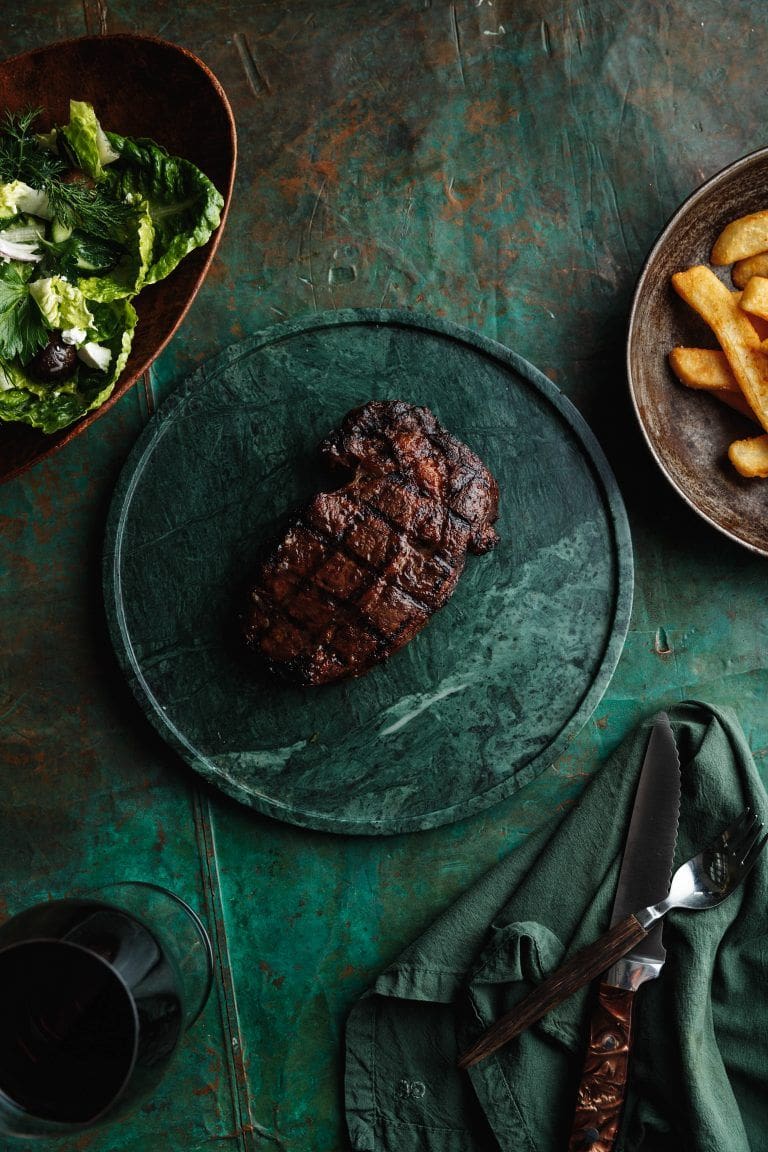 All our cuts are hand selected to ensure only the best quality Australian beef is served. Hunter's Basting & choice of thick cut chips or green salad.
Hunter's Basting & choice of thick cut chips or green salad and a side sauce.
Slow cooked and generously basted with Hunter's basting. Choice of crispy chips or green salad.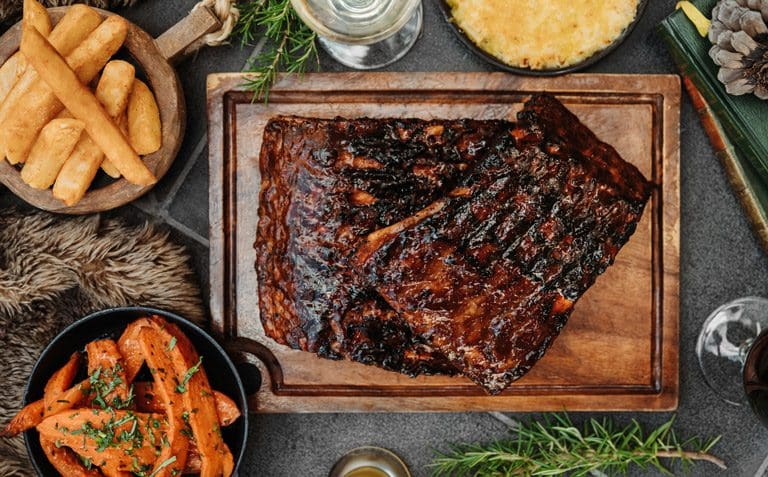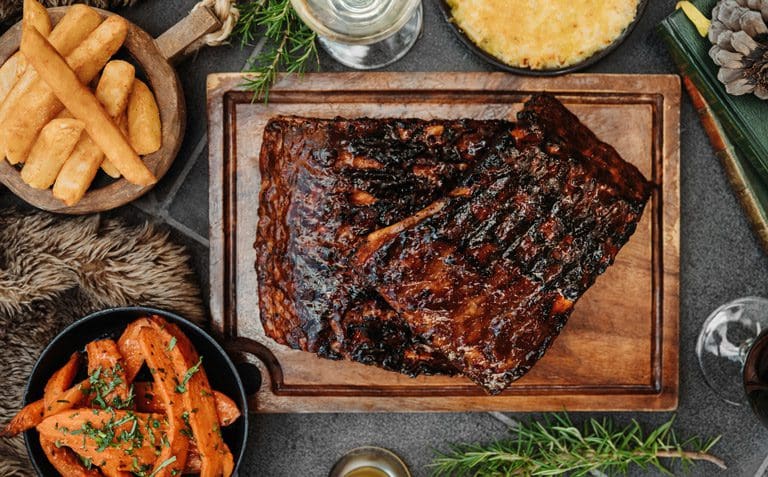 For hunter's under 12. Served with crispy chips or green salad and a scoop of vanilla ice-cream.
GRILLED CHICKEN TENDERLOINS

15

Char-grilled chicken tenders, lemon & herb basting

Char-grilled pork riblets with Hunter's basting

Angus beef burger, cheese, ketchup & brioche bun
Lime and coconut cream panna cotta, sour cherry compote & fresh basil

Fired Chocolate S'more

14

Chocolate tart layered with chocolate ganache, chocolate fudge, marshmallow served with dulce de leche & peanut butter ice cream

Lemon tart served with mango syrup, muntrie meringue and coconut ice cream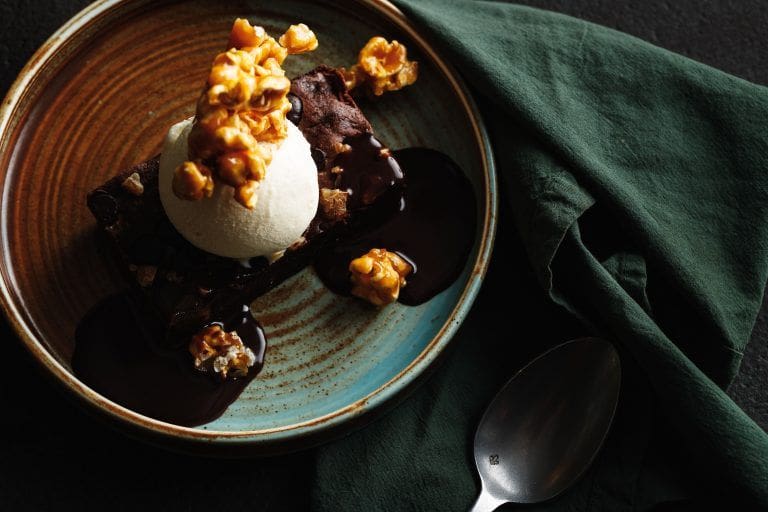 Age-old culinary techniques with a modern twist.
Dinner at Hunter & Barrel is a true feast for the senses. Smell the irresistible smokiness of tender and juicy steak, chicken and seafood as it cooks over the open coal grill. Listen to the crackle of the firepit as you sip on a barrel-aged cocktail from the bar. Sit back and appreciate the rustic ambience of the restaurant as you watch the world go by outside.
When it's time to feast, choose from a selection of hearty dinner options centred on slow-cooked meats, seasonal produce and full-bodied flavours. From favourites like impossibly tender roast lamb shoulder, beef sirloin skewers and crispy pork belly, to fresh and innovative dishes like pan-seared whole barramundi, oven-baked scallops and spiced char-grilled pumpkin, there's something to tempt every palate on our dinner menu.