Hunter & Barrel Drinks Menu
After a long day at work or a successful shopping expedition, treat yourself to a refreshing beverage at Hunter & Barrel. 
Pop into any of our restaurant locations in Eastland, Cockle Bay Wharf, Whitford or Raine Square and sample a delicious selection of drinks on our innovative beverages, mocktails and cocktails list. There's a tipple to delight every palate on our specially curated drinks menu.
Sophisticated barrel-aged cocktails
Inspired by age-old beverage craftsmanship, our drinks selection features barrel-aged cocktails interwoven with progressive techniques to create an experience quite unlike any other. 
Come in and try our selection of cocktails matured in oak barrels imparting incredible flavour dimensions. From classic and strong libations like the quintessential Negroni to sweet and fruity refreshments like the Aged Piña, our innovative cocktail list is designed to suit a wide range of tastes. 
On our list of drinks, you'll also find a diverse selection of beers, wines and spirits – so you can order an old favourite or ask our bartenders for a recommendation to suit your meal. 
And for those driving home, our mocktail list encapsulates our creative drinks-making philosophy, minus the alcohol. Sip on a refreshing Love of Lychee spritz, a fruity raspberry and Earl Grey number, or enjoy a fresh lemonade or juice at the bar.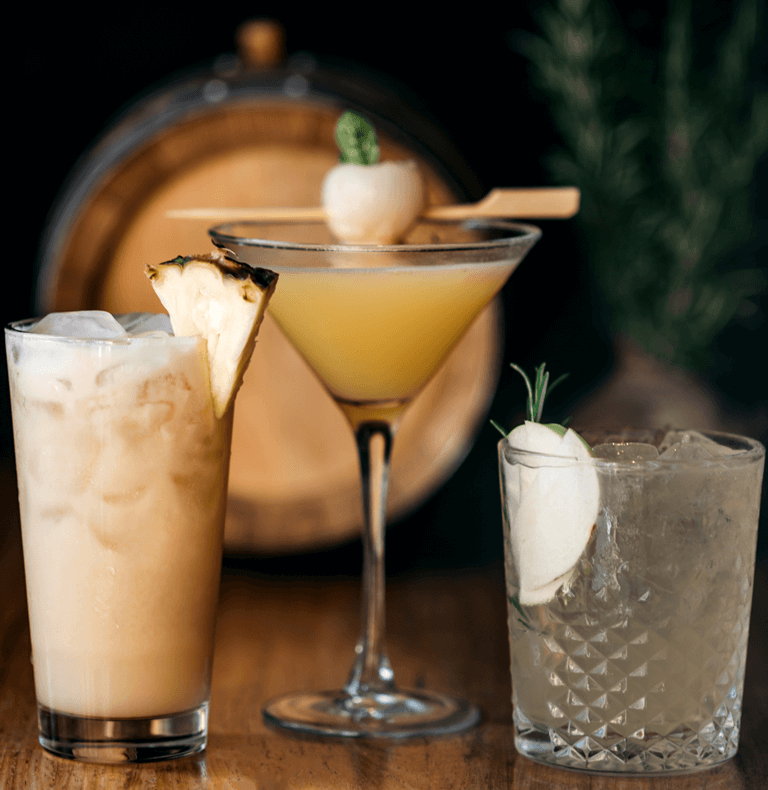 Classic and strong - Elements: Bulldog Gin, Campari, Cinzano Rosso, barrel aged in-house

Sweet and fruity - Elements: Barrel-aged blend of Appleton Rum and Baron Samedi Spiced Rum, Coco Lopez, pineapple juice

Classic and strong - Elements: In-house rested Tequila, agave, fresh lime, smoke

Refreshing and spritzy - Elements: Barrel-aged blend of Appleton Rum and Baron Samedi Spiced Rum, mint, sugar, lime

Classic and strong - Elements: Barrel aged Hennessy VS Cognac and Tia Maria, fresh espresso, salted caramel syrup
Refreshing and spritzy - Elements: Rosé vermouth, Jansz NV Rosé Brut, Tonic

Refreshing and spritzy - Elements: Skyy Vodka, St Germain Elderflower, pineapple juice topped with Prosecco

Sweet and fruity - Elements: Skyy vodka, pear liqueur and freshly pressed apple juice served with smoked rosemary

Sweet and fruity - Elements: Dark rum, white rum, spiced rum, Orgeat, Grenadine, pineapple juice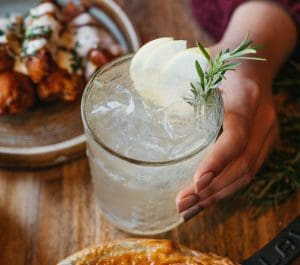 Sweet and fruity - Elements: Orange and pineapple juices shaken with hibiscus and elderflower

Sweet and fruity - Elements: Raspberries, earl grey tea, fresh mint, white chocolate syrup

Refreshing and Spritzy - Elements: Apple juice, passionfruit, lychee, soda
| The Beer | (M)425ml | (L)570ml |
| --- | --- | --- |
| YOUNG HENRYS NATURAL LAGER | 10 | 12 |
| FURPHY'S REFRESHING ALE | 10 | 12 |
| JAMES SQUIRE 150 LASHES PALE ALE | 10 | 12 |
| LITTLE CREATURES INDIA PALE ALE | 12 | 14 |
| 4 PINES AMERICAN AMBER ALE | 11 | 13 |
| HAND SELECTED Ask your waiter for details | 11 | 13 |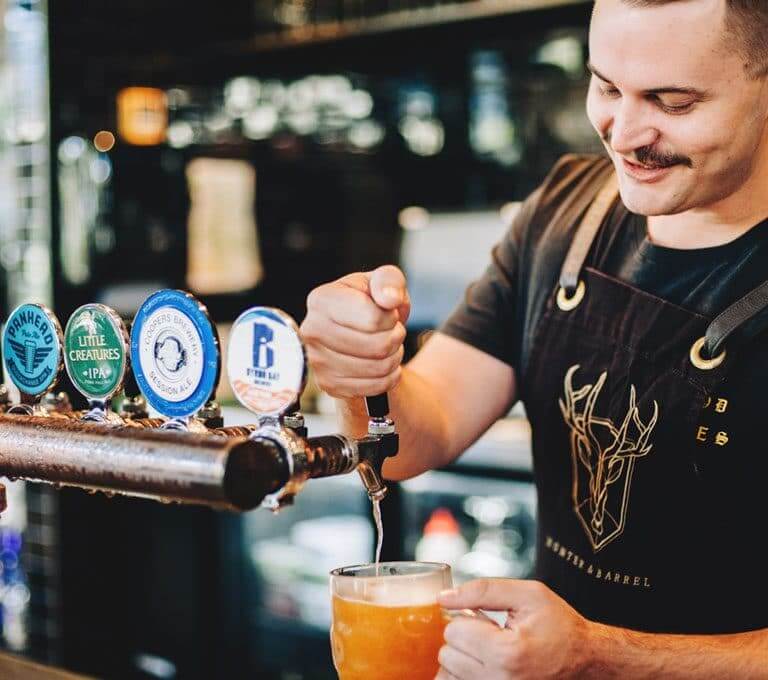 JAMES BOAG'S PREMIUM LIGHT

7

JAMES SQUIRE ORCHARD CRUSH APPLE CIDER

9
Aged anywhere from 2-6 weeks until just right, giving hints of oak flavour and accentuating the floral notes from this gin

A blend of Glen Grant Whisky as the base, Apple Pie Moonshine to give body and texture and a hint of Ardbeg Islay Whisky to give the lightest aromas of peat

Rested in barrels anywhere from 2-8 weeks, macerated with orange peel and Pavan Orange Blossom Liqueur added for a hint of sweetness and freshness

An enticing blend of Appleton 10YO Dark Rum and Baron Samedi Spiced Rum that will sit in barrels and be topped up to create a delicious yet complex rum blend great served over ice or mixed with your favourite soda
Mount Gay Eclipse Silver

9
WHISK(E)Y, SCOTCH, BOURBON
Russell's Reserve 10YO

12

Kentucky, USA

Glenmorangie Nectar D'or

15

Highlands, Scotland

Glenmorangie Quinta Ruban

15

Highlands, Scotland

Russell's Reserve Single Barrel

15

Kentucky, USA
St Germain Elderflower Liqueur

9

Galliano White/Black Sambuca

9
Sample the best with a bourbon or whisky flight
Whether you're a seasoned connoisseur or a novice drinker, our bourbon and whisky flights offer the chance to try some of our favourite spirits in one sitting. Each flight comes with four styles of whisky or bourbon specially selected for their superior character. 
Learn about the origins of classic whisky and bourbons from around the globe as you enjoy the sophisticated flavours of different varieties, each matured with a specific cask finish designed to impart a particular taste.
San Pellegrino Sparkling & Acqua Panna Still

Coke, Coke Zero, Sprite, Fanta, Tonic Water, Soda Water, Dry Ginger Ale

Lemon juice, sugar, water, dash of soda

Orange, Apple, Pineapple, Cranberry, Tomato

Espresso, Ristretto, Long Black, Double Espresso, Cappuccino, Flat White, Latte, Piccolo Latte, Mocha, Hot Chocolate

TEA – SERVED HOT OR ICED

4

English Breakfast, Earl Grey, Green, Peppermint