We've officially opened! Discover the design inspiration and process behind our newest location. Enjoy Hunter & Barrel Parramatta today!
The design concept story for Hunter & Barrel Parramatta begins with the meeting of two worlds: the saltwater of Port Jackson and the freshwater of the Parramatta River. It was from this departure point, that Design Partnership Australia drew their inspiration for Hunter & Barrel Parramatta.
The wall mural is intentionally placed upside down to make our guests stop and question. Art is often asks a question and design is the answer to the question. The mural is conceptually reflected off the Parramatta River tying the design into the local surroundings.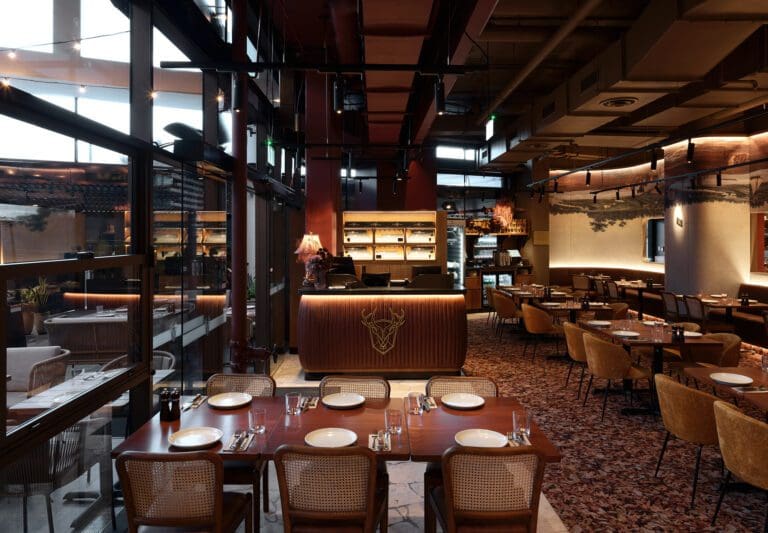 The Significance of the Parramatta River
Historically people have had a close connection with the Parramatta River for thousands of years. The location celebrates the historical significance of the river, which has been a vital source of food, transportation, and cultural practices for thousands of years.
Drawing inspiration from this connection, the design of Hunter & Barrel Parramatta is a modern interpretation of the ancient rituals and raw elements of nature that have defined the hunter's way.

The space is designed to create a warm and inviting atmosphere, with rustic accents, grand stone features, and a wooden barrel bar that pays homage to the history and traditions of the area.
The use of coal fires and an open kitchen adds to the overall experience, creating a unique social dining experience that encourages guests to gather around the roaring fire and celebrate the day's hunt. The communal feast is at the heart of the experience, and the menu is designed to be shared, with a focus on high-quality, locally-sourced ingredients.
As guests enter the restaurant, they are greeted by the stunning view of the river and the unique design elements that define Hunter & Barrel Parramatta. The space is designed to meld effortlessly, creating a warm and inviting ambiance that celebrates the meeting of two worlds.
WALL MURAL ARTWORK ACKNOWLEDGEMENT
Hunter and Barrel would like to express our sincere gratitude to the Mitchell State Library for the use of their archived artworks to develop the artwork mural displayed in the restaurant. The library's collection of art works featuring landscape scenes of the Parramatta river in New South Wales has been a vital source of inspiration to helped us gain a deeper understanding of the rich cultural and natural history of the region. We are honoured to showcase our interpretation of the artwork and the Parramatta river for the Hunter and Barrel Brand.