Are you ready to embark on an extraordinary culinary journey that combines the thrill of adventure with sensational flavour? Look no further than Hunter & Barrel's latest Winter Menu. Each dish is meticulously crafted to awaken your taste buds and transport you to a world of delight. Join the Hunter, as you dive into the highlights of this captivating menu that promises to ignite your senses, all inspired by fire. Here are my Top 10 Favourites!
Duck Sausage Roll – A Flavourful Delight
Sink your teeth into a delectable combination with our Duck Sausage Roll. Succulent duck, infused with the creamy richness of ricotta. The tangy sweetness of cranberries and the delicate crunch of pine nuts add delightful dimensions to this dish. Accompanied by a tantalizing tomato chilli relish and an assortment of pickles, this appetiser is a symphony of savoury satisfaction. Enjoy The Hunter's take on the classic Australian favourite today.
BEETROOT BRUSCHETTA (V) – A Symphony of Earthy Flavours 
The instant showstopper. Colourful, and flavourful, the perfect way to brighten these winter days. Experience a burst of vibrancy with my Beetroot Bruschetta. Delicate miche bread, by Sonoma Bakery, forms the canvas for my masterpiece of buffalo feta, drizzled with hazelnut oil. The medley of earthy beetroot, complemented by the sweet crunch of candied pecans, takes your taste buds on an unforgettable journey. A delightful vegetarian option that satisfies even the most discerning palates.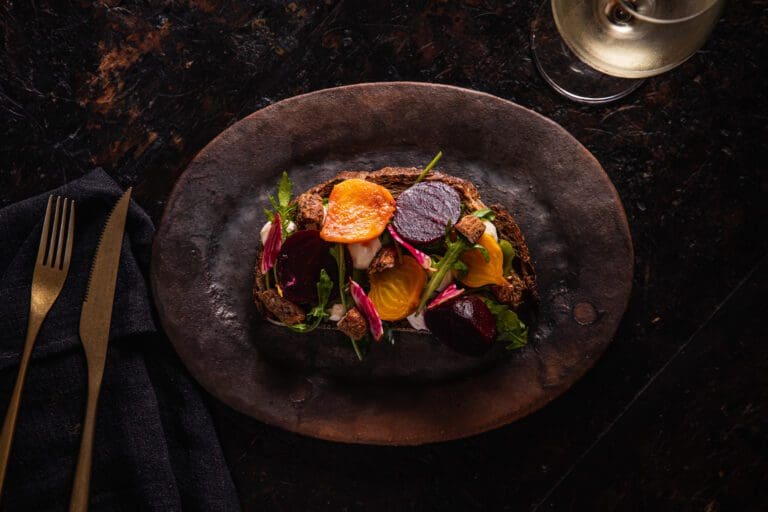 WINTER MUSHROOM STEW (V) – COMFORT IN A BOWL
For those seeking comfort in a bowl, our Winter Mushroom Stew offers a heart-warming experience. Potatoes and shallots, braised to perfection in a red wine and porcini gravy, create a rich base. The earthy shiitake mushrooms add a savoury depth, while a velvety cauliflower puree balances the flavours. This vegetarian delight is a testament to the power of well-crafted winter vegetables.
CHEESE KRANSKY – A FUSION OF SAVOURY DELIGHTS
Prepare yourself for a symphony of indulgence with our legendary Cheese Kransky. Crafted by Andrew's Choice, this mouth-watering sausage is paired with creamy mash, beer-braised beans, and a delectable duck fat Yorkshire pudding. Topped with tangy sauerkraut, this dish is a tribute to the art of savouring comfort food at its finest.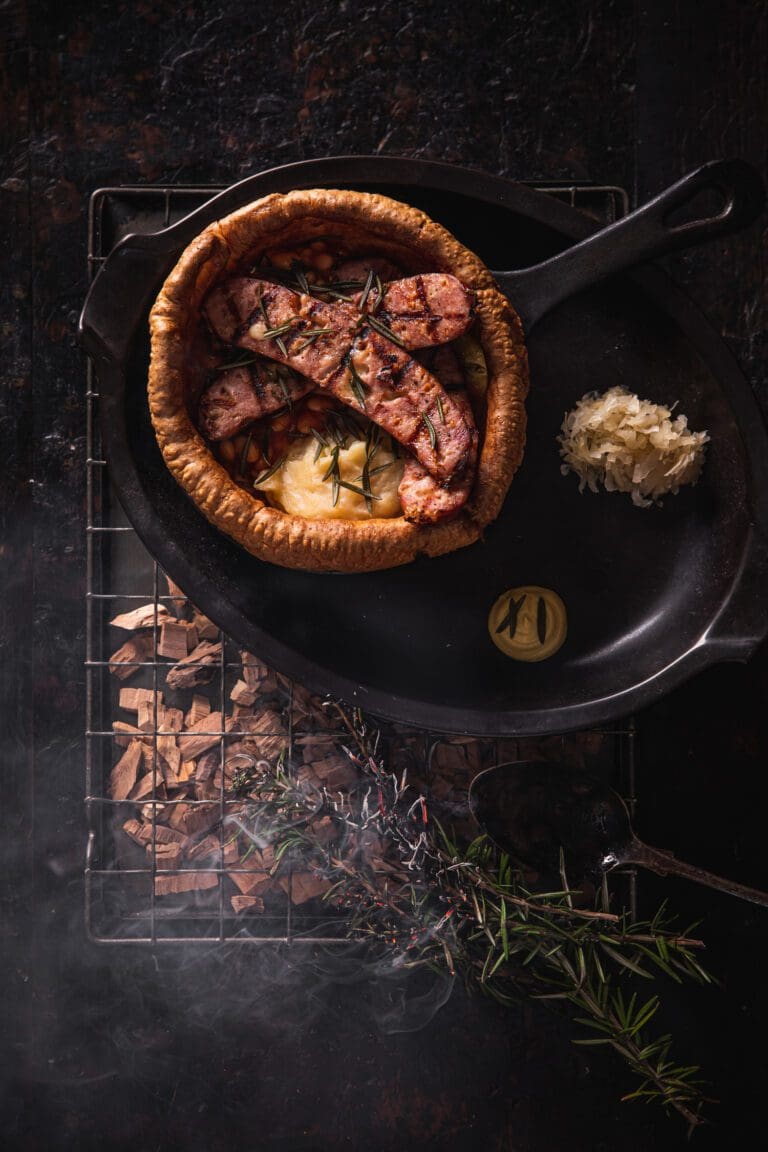 SMOKED BRISKET – A TRUE BARBECUE SENSATION
Indulge in the magic of slow-cooked perfection with our Smoked Brisket. The tender beef simply, melts in your mouth. Served alongside a warm potato and pea salad, complemented by the rich notes of marsala jus and a vibrant chimichurri, this dish is a carnivorous delight.
TOMAHAWK (1.1KG) – A SHOWSTOPPER ON THE TABLE
For those seeking an awe-inspiring centrepiece, the Tomahawk steak is a must-try. Weighing in at 1.1 kilograms, this impressive cut of meat is perfect for sharing with friends and family. Grilled to perfection and paired perfectly with my side dishes, it promises a memorable dining experience that satisfies both the palate and the eyes.
CRISPY BRUSSELS SPROUTS – A PERFECT BALANCE
Discover the irresistible Crispy Brussels Sprouts, elevated to new heights with the addition of bacon and my sticky soy and mirin glaze. This delightful side dish strikes the perfect balance between crispy texture and umami flavours, making it a must-have accompaniment to any of my main courses.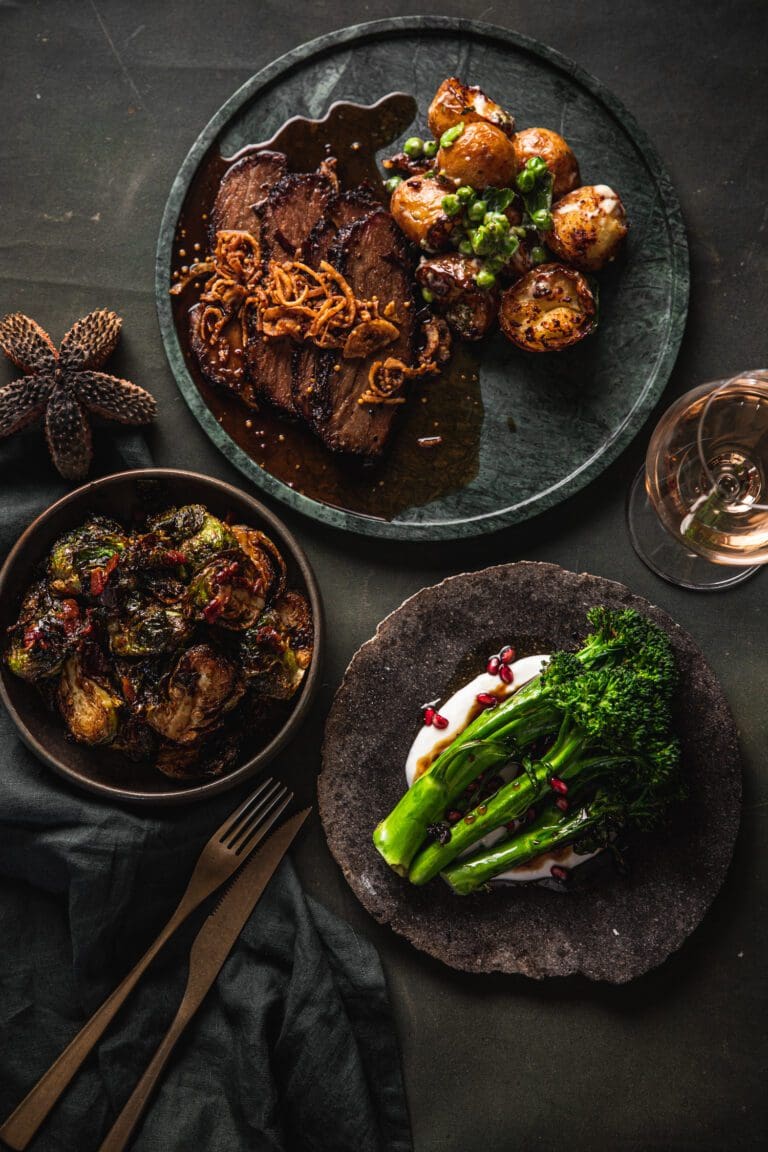 CHARRED BROCCOLINI (V) (VG-OPTION) – A BURST OF FRESHNESS
Immerse yourself in the freshness of my Charred Broccolini. The crisp-tender broccolini, kissed by flames, meets the creaminess of Meredith sheep yogurt. The sweet and sour pomegranate dressing tantalises your palate, while crispy shallots add a delightful crunch. This versatile dish caters to any vegetarian and vegan preferences.
APPLE TART (V) – A WARM AND DECADENT FINALE
Indulge your sweet tooth with the latest addition to my dessert offerings, the Apple Tart. A a warm and comforting dessert that captivates the senses. Featuring a luscious tarte tatin, delicately balanced with mascarpone vanilla cream, and garnished with freeze-dried raspberries. The tart is a harmonious blend of sweet and tangy notes, perfect for rounding off your Winter Wonderland culinary experience.
SWEET SHARE BOARD – A SYMPHONY OF THE HUNTER'S DESSERT DELIGHTS
For those who love variety, our Sweet Share Board is a dream come true. Dive into a delightful selection that includes my famous Chocolate S'more, luscious Caramelised Cheesecake, and the irresistible Warm Apple Tart. Share these divine treats with loved ones and create lasting memories.
Whether you're a carnivore, vegetarian, vegan, or eat just about everything this menu has something to delight everyone. Come and experience the fusion of adventure and flavour, and let Hunter & Barrel ignite your taste buds with an unforgettable culinary journey. Book your table today!